Bolt stays silent when his team does what he called for them to do after Lygon st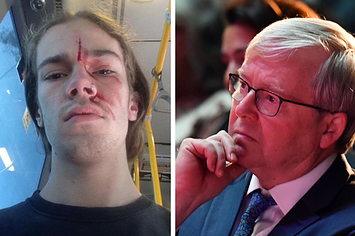 He was allegedly targeted after confronting a man pulling down rainbow flags."Shinead Cunningham, who runs the Facebook page, told BuzzFeed News that Sean was allegedly targeted after he confronted a man pulling down rainbow flags and yelling "I hate fucking faggots".
"I do know what homophobia is, but I don't think it exists much in our

Name a country that since marriage equality was introduced that the laws on speech and religion have been changed due to the social upheaval envisaged by marriage equality. Bolt only talks in riddles and threats as to what will happen when and if rather than what is happening now and how we came to be in this situation. History and context are of no concern to Bolt nor is equality for all Australian citizens. He wants the freedom to continue the language of homophobia that has existed since invasion day.
Bolt claims that the heterosexual family is the safest place to raise children recent statistics from the ACT indicate it's an institution in stress and an increasingly larger number of children than ever before are being placed in foster care. The white stolen generation is happening because of family breakdown. The ACT has the highest average income in Australia yet it appears not to be helping Bolt's fantasy nuclear family.
Free speech is an ideal that doesn't exist hate & information have state laws that speech isn't free yet Bolt convicted of both hate and misinformation believes we should be free to do it. He rails against whistle blowers and leakers but does he really mean they ought to be free to do what they want. His wife almost threatened legal action when their sons job at the IPA was revealed. Bolt obviously couldn't do it given his beliefs but neither did he tell his wife that she was running counter to the ideas of free speech. Yes Bolt's supports the right Nazis to publicly vilify Jews as they did in Charlottesville and condemns those that shout them down as thugs.