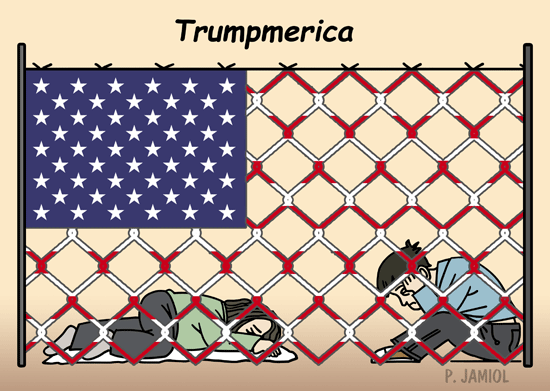 Breitbart editor-at-large justifies separating families at the border: It is "better than what they had"
FORMER ISRAELI MINISTER CHARGED WITH SPYING FOR IRAN
Disturbing: "A former Israeli government minister, once imprisoned for trying to smuggle drugs, is back behind bars after being charged with spying for archenemy Iran.
LIBERALS GET BLOODY
Most un-Liberal: "Police are investigating a violent brawl which broke out between dozens of Liberal Party branch members in Arncliffe last night... A senior Liberal Party source [said] the dispute between members centred on a push to create a new party branch in the area." The brawl was at a Lebanese cafe.
YOUR SENATE, YOUR SHAME
How bad does our Senate look? Now Brian Burston quits One Nation, tells the Senate he's an independent but one hour later joins the United Australian Party of buffoon billion Clive Palmer. And Lucy Gichuhi, who left Family First to become a Liberal, uses taxpayers money to fly relatives to her birthday party. My editorial from The Bolt Report.
LIBERAL SENATOR: CUT ABC
Senator James Paterson says just because the ABC won't be privatised doesn't mean it can't be reformed to stop it using taxpayers money to compete with private media. "There is a very strong case for reforming it." Why is the ABC running a 24-hour TV news station? From The Bolt Report.
Tony Abbott on the board of the Ramsay Centre tried to bribe Australian universities once before to house Anti- Climate Change environmentalists Dr Bjorn Lomborg's Copenhagen Consensus Centre on a campus and failed. He's now looking to do the same with the Ramsay Centre's for the promotion of Western Civilisation covertly an anti- Multiculturalism course. The very notion of what a university is is at stake and Tony the wrecker is there to challenge it with the support of his old mentor John Howard and the IPA well and truly behind him. One only needs to recall Abbott has never left the feet of his mentor Bob Santa Maria. Given that Western Civilisation is currently taught on university campuses what is the urgency here to have it as a separate degree? Simply purpose of the Ramsay Centre wasn't a study of Western Civilisation at all it was intended as a Church to promote it
The Ramsay Centre is still looking for a tertiary home for its donation as is the Copenhagen Consensus Centre which is not at all linked to Denmark according to the Danes. (ODT)
Sydney University academics label Ramsay Centre 'European supremacism'