ON TONIGHT: ABOUT THAT MP WHO'LL QUIT THE GOVERNMENT IF TURNBULL IS NOT SACKED
On The Bolt Report on Sky News at 7pm: about the MP who told me he'll quit the Turnbull Government next month if Malcolm Turnbull is not sacked as Prime Minister. Why I reported it - and why Julie Bishop would just make things worse. Plus Anthony Albanese on whether illegal immigrants should clean their own damn toilets. Sharri Markson cuts loose.
21/11/2017
Advertising for The Bolt Report. It promises the world but delivers nothing you can't miss.
More repeated" advertising" for his unrated show and himself just like the post above. The promise and possibility that all will be revealed little more than media cock teasing and bullshit. That is Bolt's expertise when in reality he's little more than a desperate media clown. He is the Judas ram advertising News Corp. However in this post, it's with a proviso. He feels or at least his lawyers feel that he needs a get out clause and it's placed at the very end.
Bolt's TV editorials are no different in style or substance than his many print commentaries. They too start the fantasy as if reporting reality but they aren't real truths and have taken you down the garden path conclude with the statement that this is "not fact" just might be but it's my opinion. Or if it's a person or persons Bolt is accusing it ends with the truth that they deny this or it hasn't been proved yet.
Bolt's opinions are always a legally protected performance covered by a "get out of jail card". Basically, it's Bolt BSing for attention in the face of failing ratings no names are even necessary for these fictions and even if there are any the last thing said always says that nothing has been proven. By this time most people haven't read as far as Bolt's get out clause or are even aware of it being there and what's presented is fake news but the damage has been done. It's what Breitbart, The Daily Caller, Fox News, the gutter press do and it's News Corp in action in Australia. All that's intended is to plant the myth the idea that it's reality.
THE NIGHT CHRISTOPHER PYNE TRIED TO FOOL RICHO AND JONES
So Graham Richardson was having dinner with Alan Jones when Christopher Pyne tweeted them both some stupid excuse for having scrapped Parliament next week. The bad news for Pyne? Also in the restaurant was Bill Shorten, who straight away nailed the lie. Read on.
PAYWALL
No mention of Richo financial scandals here
TIPS FOR WEDNESDAY, NOVEMBER 22
Tell us the news here. My guest on the next The Bolt Report : former tennis great Jelena Dokic. Her new book documents the abuse she suffered at the hands of her father.
34m
An Ad for The Bolt Report
As said above Bolt's sensationalism dressed as news for New Corp
The academics that protested are never reported by Andrew Bolt because he certainly doesn't want us to know 15,000 scientists endorsed the research and findings that the planet is in fact warming. As usual, Bolt prefers the single events no doubt distorted to push his anti-warming advocacy and agenda.
MORRISON: "TOO EARLY" TO EXPLAIN TURNBULL'S TAX CUTS
Treasurer Scott Morrison finally emerges to try to explain Malcolm Turnbull's idea of personal tax cuts. Asked how big they'd be, when they'd come or how they'd work, the answer is the same: "It is too early to provide those details." On how the Government can promise tax cuts while it raises the Medicare levy: "You can do both." Oh dear.
Press the link and you will discover it has nothing to do with Scott Morrison or what he said. It's an ad for the ABC's AM program only. As for the Medicare levy well that's for all of us and Bolt doesn't like it. Even more, the tax cuts are only for "some" of us and not all. Bolt doesn't seem to be able to grasp the difference because he lives in the insular world of the elect who fear they just might lose a privilege or two. Bolt believes he's the spokesman for his team The Aloof.
MUGABE FALLS
Good news: Robert Mugabe has resigned after 37 years as president (dictator) of Zimbabwe. Bad news: his likely successor is another brutal thug, Emmerson "the Crocodile" Mnangagwa, Mugabe's former enforcer.
How long has it taken Bolt to concede that Mugabe's reign was at an end? He strung this along as a space filler for his blog. It was Bolt's Cluedo a fill in when he really had little or nothing to say. Peter BH his troll must be on holiday but then I guess he knows nothing about Africa either. Africa is a continent that struggles with its Colonial history and it borders little more than lines in the sand drawn by Europeans. What's worse Africa trying to escape it's past and finding itself in a war of dictators with peoples struggling to achieve democracy or a democracy like Australia fighting against wannabe thugs like Abbott's conservatives that want nothing better than to take over. We know who Bolt is rooting for and it's not democracy. So why is playing at disguised posturing?
NEWSWEEK DEPRAVED WITH TRUMP HATE: LINKS HIM TO MANSON
You can hardly be more crazed with Trump hatred than Newsweek.
There is no link here just a headline taken out of context to establish a point that Bolt makes that Trump isn't liked in America anymore. It's little more than a Bolt Meme. It wasn't so long ago Bolt was calling Trump a fool but that was when he was running for President. Now that he's Rupert Murdoch's biggest client Bolt is his greatest Australian defender. It's called Simon Says but in this case, it's Rupert Says and Fox News says a kids game but one, unfortunately, media based.
CAUGHT ON TAPE: UNIVERSITY DEMANDS TEACHER CRUSH DEBATE
Western universities are becoming enemies of debate. Listen to this disgusting interrogation by Wilfrid Laurier University officials of a teaching assistant who presented both sides of an argument over Jordan Peterson, an academic opposed to gender-neutral pronouns, and was denounced by an anonymous student for creating an "unsafe" environment.
Bolt's either not writing his blogs or he's drunk. His link here has yet again nothing to do with the topic at hand but all to do with the story about his anonymous MP and quizzing in the Liberal ranks.
However, Bolt is presenting himself for what he is a fool. He's disgusted with the fact that a "debate" is going on in the University a debate he as an outsider claims should be stopped. How contradictory is that? Let alone the fact that an eavesdropping outsider can't it seems to distinguish between administrative and teaching issues in an institution and which in some cases crossover. Bolt leaves no room for comment given he hasn't left a link to his source argument but then that's Bolt. He readily attacks other commentators like Onselen and takes offense when it's pointed out his blog post is incompetent.
Update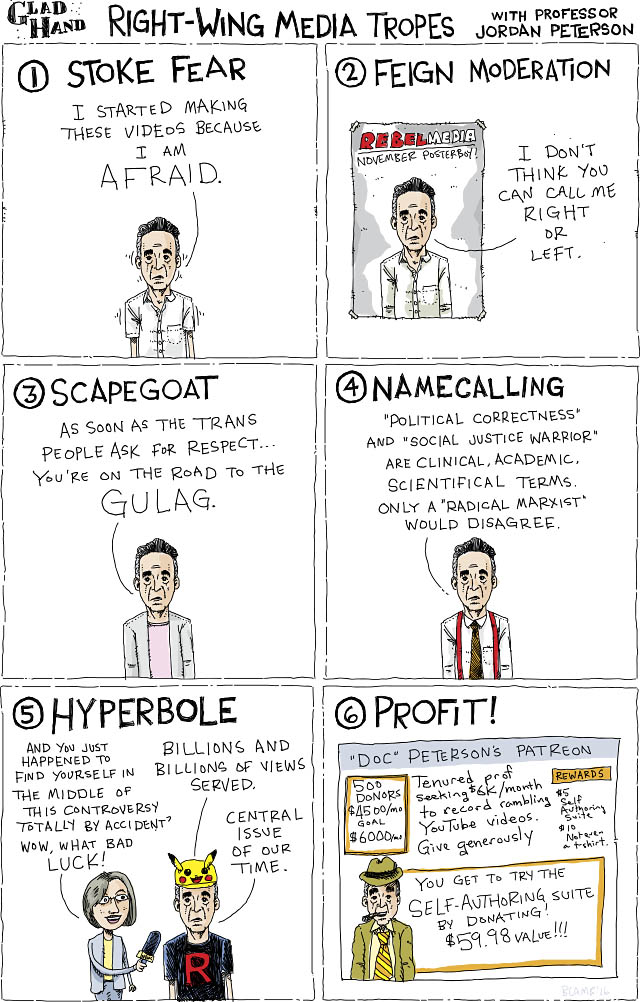 Well, what do you know the link has now been corrected and the write button pushed. Well, what we seem to have is Bolt complaining about a debate in a Canadian University that allows Bolt to cast a generalization so broad as to be idiotic and not worthy of debate. "Western universities are becoming the enemies of debate" Bolt
Bolt's proof of stupidity is to turn to the stupidity of a debate going on which runs counter to the statement he wants to make about the limitations on "free speech". The fact is that's been a universal topic in Western universities for as long as they have existed.
The question however seems is Jordan Peterson "worth discussing" as is "was Hitler worth discussing" before he closed all discussions in German Universities? That's one of policy, power, and administration rather than free speech. How often have we heard Bolt call for the sacking of leftist academics who actually are more likely to have encouraged 'free speech' more so than Andrew Bolt who hates topics of Human Rights, Inequity, Social justice, and Equality?
"
the response from the administration is totally off the mark? Obviously, there is a clear tension between Shepherd's approach to pedagogy and that of her academic superiors, but that doesn't warrant this kind of crackdown on what can or cannot be discussed in the classroom."
However, Bolt's grab of this event hardly warrants his conclusion because
"it is usually the left who loses when intellectual free spaces are foreclosed, precisely because the seminar room is one of the few places on earth where you can express genuinely radical ideas counter to the interests of the people who bankroll, say, right-wing semi-national newspapers"
"

For the record: Jordan Peterson is a transphobic YouTube crank with basically nothing interesting to say about free speech or gender expression, and who very obviously has no idea what any part of the phrase "post-modern neo-Marxist" means. He is a bad political and social thinker, and many of his ideas about gender roles are genuinely dangerous. (Tabatha Southey has already written his intellectual obituary by clocking him as "the stupid person's idea of a smart person," which is immediately obvious to anyone who listens to his awful honking voice for more than thirty seconds.)
He's very much another Bolt who has seemed to have gained attention.
What was public knowledge Bolt decides to sensationalize with yet more anonymous whispering? Might I add there are conservatives in and out of cabinet and to suggest there is lack of unity is hardly news. Turnbull has been fighting the extreme minority right-wing elements of the Liberal Party ever since Abbott said he was staunch and we the public were meant to believe it. If this is what Bolt thinks is breaking news he'd best find another job because it's hardly something that's not known.
News Bolt, however, is overlooked by Bolt that another record has been shattered this week has been the hottest Spring week on record. However, you won't hear that from Bolt.
YET ANOTHER CITIZENSHIP BUNGLE. UPDATE: XENOPHON SENATOR QUITS
We get so many political disasters now that I'd almost forgotten about this rolling circus: "Nick Xenophon Team senator Sky Kakoschke-Moore has concerns about her eligibility to sit in parliament. Senator Kakoschke-Moore will hold a press conference at 12pm Adelaide time."
19m
4
PAYWALL
The ALP have said they were strict in managing the qualifications of those seeking pre-selection and compared with the rabble and the smaller parties that don't have the manpower they are right. Yet Andrew Bolt seems to think that MPs who aren't entitled to vote should turn up and vote despite being illegal. The disaster is less of a shadow cast on the small parties but it shows that the backroom organization of the Liberal Party is a shambles. That instead of focusing on tasks, they were meant to attend to they felt an entitlement set by examples such as Peta Credlin and Tony Abbott to politics rather than managing their new agenda. Yes, Turnbull sure did inherit a leaky boat, didn't he!!