DAVE RUBIN UNPLUGGED
The Young IPA podcast team - James Bolt and Peter Gregory - interview the brilliant Dave Rubin, out here touring with Jordan Peterson. What next for the intellectual "dark web"? Plus the bad thing about Trump's national emergency declaration and why ten own attack is not a good PR move. Listen here.
From travel rorts to Paladin, to union raids and the Banking RC, hiding is what the Morrison Government is about.

You can detect an odour infecting Parliament: desperation and denial mixed with things decomposing

Federal Labor has almost doubled campaign election spending in Victoria and put three new Liberal heartland electorates on its campagn hitlist, after polling indicating Victoria will be the lynchpin of a Labor election victory.
I dare the conservatives to run the smart campaign Matthew Guy ran, Try your fear attack on Blacks, Muslims Over Crowdings in Victoria and watch yourself sink Australia Bolt. Your beloved conservative White Australia that doesn't exist.
The Joke
"Within Labor, Victoria was regarded as the weakest performer during the 2016 federal election, in large part due to Mr Turnbull's popularity with Labor voters, which is perceived to have been critical to the Liberals picking up Julia Banks' seat of Chisholm in 2016."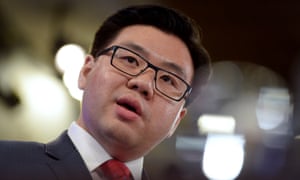 IDENTITY POLITICIANS REMADE TODAY SHOW. IT BOMBS
The Today Show was remake just like the identity warriors wanted: bad man Karl Stefanovic out, bad boy Richard Wilkins sidelined. In: two female hosts, and an entertainment reporter who identifies as Aboriginal and preached race politics. Result? Disaster. And remember how Melbourne's Footy Show was also ruined?
When you really have nothing to say attack the opposition and call them Labor. Bolt as a weekly average of viewers 150,000 the Today Show tops his weekly average daily, yet he makes out he were a hero, and a sought after selling author. Who pray-tell are the "identity warriors" if it isn't Bolt and the Sky crew rooting for a return to the days of a White Western Christian Australia planted in the Pacific. A dream once held before WW2. Bolt's just flipping the coin, but it's a double-headed one, and it's always been Ethnocentric and racist.
Bolt seems to be trying to run a subliminal message that says "don't change the government" hard to push when you look at the reality of the BS that's been keeping them there at the moment. Or is it a message for his masters don't change the format of Sky after dark look what might happen. All this is coming from a child drummer who still dribbles on both sides of his mouth to the Rollicking sound of Waterboys or is that the Watercloset?
REFUGEE PRAISED, NOW CHARGED
Awkward: "An Iranian refugee who fronted a national television campaign aimed at encouraging migrants to become small business owners has been charged with conspiracy to import methamphetamine with a street value of $36 million into Sydney." Clearly he (allegedly) broke the rules; $36 million is not a small business. Watch the video.
PAYWALL
This is mostly a phishing scam to attract subscribers to the Herald Sun.
However, it seems to support the Bolt mindset punish the class for the actions of one. "Refugees" no matter from where when or why all fall into Bolt's category of criminals. If one transgresses and all then need to be treated as such. Bolt's a convicted vilifier and serial defamer so should we handle all the Bolt's accordingly? Bolt's parents came from the single most notorious Jew-hating town in the Netherlands Aalsmeer, and Bolt yet doesn't declare the people of Aalsmeer as undesirables or treat any of those individuals or their children as anti-Semitic undesirables. However, he seems to demand some form of collective punishment of refugees readily.
The Dutch were once very involved in drug importation into this country does Bolt see himself in stereotypical terms? The Dutch have worn the stereotype of being mean as sewer rats unsharing and not to be trusted by the British for over 300 years. Should we see Bolt in those terms? Or should we note what he calls shyness and tightfistedness as "typically Dutch"? Bolt's parents were "economic refugees", and he's known to have admitted he never felt Australian for over half his life so why should we believe he's changed and isn't just a poseur now. After all, he's proven he hates public visibility. Collective punishment which we often hear Bolt call for was that dealt out by all fascist regimes and still is to Gypsies, Palestinians, Muslims and Aborigines etc. It's not what democracies founded on. We tend to have practised this stereotyping since the first landing and the declaration of Terra Nullis of which Bolt and his opinions still support today.
"Glencore is another global warming poseur: "Bolt
It's as if Glencore is the only one making concessions to the reality of science, the market and the simple logic of clean energy. His failure to stop AGL, Adani, BHP, Rio Tinto and others all transitioning to the new future obviously effects News Corp's bottom line and the dark money that feeds it in so many ways it is drying up and will become the Murray Darling sooner than later. Yes, they are all making concessions and if these are merely affectations as Bolt is trying to convince us they are they are of enormous money value immense in fact.
" All Glencore has done is demonise its own business without having the slightest intention of quitting it. Gross hypocrisy and not a little dishonesty."Bolt
As usual, the word "transition" isn't in Bolt's dictionary must be a term out of Business Science and the Market, not the paid for ideas of politicians and media hucksters who are stuck in sound byte grooves of a broken record. Although this one is the sound of agony.
HOW JUSSIE'S RACE-HATE HOAX SHAMES THE MEDIA
COLUMN

Jussie Smollett perpetrated this century's biggest race-hate hoax, convincing the media that racist Trump fans lynched him. This illustrates the shocking decline of journalism, where journalists pick a side rather than the truth. It's a journalism of feelings, not facts, and lets liars like Smollett rule. UPDATE: Police name Smollett as "suspect".
Bolt is stuck in a groove of his own making and like a broken record attached in this "If" Smollet tale, He glued himself to it two weeks ago trying to prove this was a case of Black (reverse) Racism and the victimising of Trump by the black gays of America. Bolt's trying to rid himself of it but doesn't seem able even to convince himself. He last said it was a Hoax in his banner but when discussing the details and consequences he used "If" along with most of the other media waiting for some evidentiary outcome.
However "If" doesn't suit Bolt just as it didn't in the case of the Orlando massacre. Back then Bolt simply called the FBI and the Police all liars, and conspirators because they weren't supporting the conclusion he wanted. Here he's now sure it's a hoax or is he?
Bolt simply can't listen to anything but the sound of his voice, so he's see-sawed from what he read in the American Think two weeks ago to wait for the evidence to "if" and certainty — yes, now yelling and accusing all other American media as fake, as Trump does.
Who does Bolt turn to for support none other than Fox News? They have declared Smollet to be a police "suspect". Hello, isn't that what police do after a complaint is filed they look at the facts FROM ALL SIDES. Wow, Bolt's a genius, and Fox News is too they have just stated the obvious in a way that couldn't make them out to be even more stupid than they already are because Bolt certainly has been calling it a hoax all along look at the banner he posted.
All of this, by the way, is to distract from the Liberal Madness and just speculation being written today and even that Victoria Bolt's home state doesn't listen to him.
Seven MPs quit the UK Labour Party this week and not just because they disagreed with leader Jeremy Corbyn on Brexit." Bolt