Victim of Careers Australia collapse just days away from graduation
About 500 words stood between Gail Winters and a diploma that would lead to a new career.
Scandal-ridden Careers Australia, a Liberal major donor, back in spotlight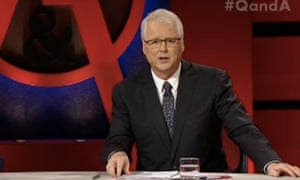 Manchester bomb should've been exploded on ABC's Q&A, Quadrant's Roger Franklin says | Australia news | The Guardian
ABC demands removal of article after Roger Franklin says 'if there had been a shred of justice that blast would have detonated in an Ultimo TV studio' on Monday
Not a word from Andrew Bolt on this week's star media embarrassment .Writer for not only Quadrant but Rowan Dean's The Spectator as well. Bolt's favorite conservative magazines Has Roger Franklin been a guest on The Bolt Report as well? All we heard from Bolt was "Sack Yassmin"
Guest Post: Peter O'Brien A defence of Roger Franklin | Catallaxy Files| IPA
Bolt is deeply embarrased What you won't hear from Bolt.
Despite President Trump's efforts to curtail resettlement, the State Department's move could result in a near doubling of refugees entering the country.