Bill Shorten has put off a decision on who will take charge of national security if Labor wins the federal election.
We have just been informed that the message Peter Dutton, Scott Morrison and Murdoch Media put out last week about the advice given to the ALP by ASIO was a total MISREPRESENTATION of the fact. In other words, a LIE! As a consequence, it skewed this week's Ipsos Poll making it an outlier.
I have pointed out previously that since Ch9 had taken over Fairfax a noticeable shift to Murdoch's business model of reporting news has become evident. One doesn't have to point out the bias in the above headline or reporting as FAKE NEWS or simply right wing-opinion. Given that the ABC budget has been slashed to the tune of some 30% compared to what it once was. The LNP from 2013 - 2019 have managed to diminish Australian Democracy to it's the lowest level since Federation. (ODT)

Opinion
Over recent years the budget for 46 outlets, four television channels, iView and News 24 has been slashed.
Only with a total change of government
(ODT)

THIS IS MIRANDA?
Good heavens. From Miranda Devine: "By the time Turnbull's memoir is published at the end of the year his abbreviated prime ministership will be little more than a footnote in political history. Time will likely restore Abbott's unfulfilled legacy to greatness in the annals of the Liberal party, unlike his assassin's." That's some change.
PAYWALL
Andrew Bolt probably ignored Alan Jones's apology for calling Turnbull a traitor. Miranda Devine is pointing out just how far Morrison is now swinging right, and the Liberal Party is, in fact, going backwards. Devine who was once an Andrew Bolt dream who told him to "F" off has been punished by Bolt in fits of revenge. Devine with a history of math logic and reason behind her thinks unlike Bolt, and she's doing that here. Bolt who tends to drag his knuckles just puts in his misogynist rejected boot. Strangely without Tim Blair's help.
'I had no justification for making that false statement,' broadcaster tells Sky viewers
SHORTEN STUCK ON AN ISLAND, MEDIVAC RETREAT!
Here is Labor's latest position. Keeping illegal immigrants on the island of Nauru is a disgrace and medical emergency. Keeping them on Christmas Island isn't. Shorten: "If the medical treatment is delivered and delivered on Christmas Island and it makes people well, that's fine." That's Shorten running away from his Medivac disaster.
Labor's problem hasn't been anti-Semitism at all. It has been Israel's Zionist interference and meddling with a Party whose natural home has been Jewish and still is. Marxism grew out of the right-wing anti-Semitism Jews experienced worldwide. Israeli politics currently is losing the support of the diaspora Jews globally, and Israel is pouring huge funds into British Politics to do this, to divide the Labor Party.
"All of these MPs stood on our manifesto in 2017 – Jeremy Corbyn's manifesto. They all increased their majorities."
The fact is they didn't all quit for Anti-Semitism at all as usual Bolt readily takes the most right-wing line and currently it's the Israeli -Zionist line that suits propagandising rather than the "No Deal Brexit" which Bolt conveniently puts in the background as the least of the issues. Along with the fact that Corbyn within Labor is seen as a Left-wing Tony Abbott who some of the Party just don't want as a leader.
So whose resigned?
Only one of the seven seems to have resigned because anti-Semitism was their major issue
When Jews are anti-Semitic according to Bolt
In a stark departure from past programs focused on strengthening ties with Israel and Judaism, the new crop of rabbinical students is reaching out to the Palestinians. The change reflects a divide between Israeli and American Jews that appears to be widening.
On a recent winter morning, Tyler Dratch, a 26-year-old rabbinical student at Hebrew College in Boston, was among some two dozen Jewish students planting olive trees in the Palestinian village of At-Tuwani in the southern West Bank. The only Jews that locals typically see are either Israeli soldiers or ultranationalist settlers.
"Before coming here and doing this, I couldn't speak intelligently about Israel," Dratch said. "We're saying that we can take the same religion settlers use to commit violence in order to commit justice, to make peace."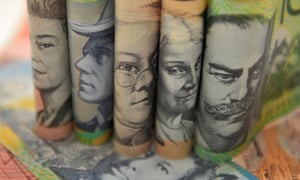 The LNP want to defend this rort not because it's a rort, but it sounds a great vote-getter saying the ALP is taking money off the retired. No, they are making money off taxpayers who don't deserve to be screwed. (ODT)
Imagine that you had $1.2m in superannuation and you were pulling out an annual income of $60,000 per year. Tax-free. Now imagine your aunt dies and leaves you her $1.2m in shares that pay fully franked dividends. You would now have two sources of income – tax-free super and negatively taxed dividends. In addition to your $120,000 per year, you would also get a cheque from the ATO of $5,125. If your self-managed super fund has shares, you probably get another $5,000 to $25,000 worth of imputation credit refunds. And you get to call yourself "self-funded"!
And that, my friends, is why people other than you spend so much money on lawyers, accountants and financial advice. It's also why Australia is one of the richest countries in the world but can no longer afford to ensure that pensioners in nursing homes get a decent feed.
According to modelling by the Australia Institute, cash refunds for spare dividend imputation credits cost the federal budget more than $5bn last year and more than half of those cash refunds will go to people with more than $180,000.
The Venezuelan military remains "obedient and subordinate" to the country's legitimate president, Nicolas Maduro, the defence minister, has said, dismissing threats by US President Donald Trump as "arrogant and senseless."