But the biggest investments we need to make are in people, not concrete. The pandemic has exposed huge weaknesses in our social infrastructure, from aged care and public health to university education. These are the areas that desperately need more investment if we are to make the economic transformation we need.

An emotional Scott Morrison has put forward a compromise solution for Queensland's border closure, saying a requirement for those wishing to enter the state to isolate for 7 years on a remote island would be a more Australian, humane response.
"This is the sort of compassion Australians expect," Mr Morrison, close to tears, told radio listeners.
"The idea that families have been separated without first being placed in a cramped detention centre for the best part of a decade is hard to fathom. It's not the Australian way".
He said we risked losing our unique way of dealing with people from other places. "When someone comes to our border we don't just say 'no'. We lock them up. That's how we do things in Australia. Full credit to Queensland and Western Australia and South Australia for finding new and peculiar ways to create fear of outsiders. But I think we can go much, much further".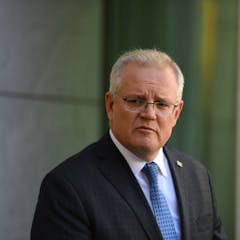 Under a rapidly changing climate, it's not just about keeping the lights on. We not only want energy, but we want to breathe clean air, have enough food and live in a sustainable community.
TRUMP BROKERS ISRAEL PEACE. REMEMBER WHEN CCN SAID HE COULDN'T?
Donald Trump has brokered two peace deals between Israel and Arab nations - the UAE and Bahrain. Remember when the media howled that he'd made peace less likely by moving the US embassy to Jerusalem? Remember CNN? Remember John Brennan?