For the first time since the industrial revolution, coal-fired power will constitute less than 20 per cent of the world's energy by 2040, according to one scenario in the report, which found the end of the coal era has been accelerated by the COVID-19 pandemic.
LNP want to build and restore coal fired power stations. Now that's back to the future planning.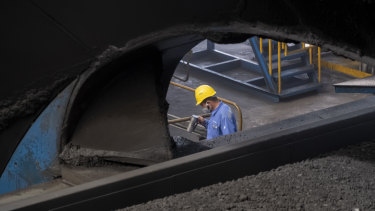 Coal exports to China may have passed their use-by-date with or without the political tension that has dominated Australia's relationship with Beijing over the past year.
The real explanation for the flurry of speculation that has seen warnings about China halting imports of Australian coal is likely to be much simpler. China's market priorities have changed.

If Kevin Rudd succeeds in getting up an inquiry into the Murdoch press, News Corp will have to prove it actually is still a news company.
… everyone ought to see [Fox] for what it is: not a normal news organisation with inevitable screw-ups, flaws and commercial interests, which sometimes fail to serve the public interest. Instead, it's a shameless propaganda outfit, which makes billions of dollars a year as it chips away at the core democratic values we ought to hold dear: truth, accountability and the rule of law.
Earlier this year, James Murdoch joined in, resigning from the News Corp board citing "disagreements over certain editorial content." This past weekend, in an interview with The New York Times, he went further talking of hidden agendas and disinformation.
In the absence of an inquiry, James Murdoch's views should become the starting point for Australian journalists reporting on News Corp.


The petition is up to 250,000 signitures what's Andrew Bolt's defence?



for a Royal Commission to ensure a strong and diverse Australian media now has nearly a quarter of a million signatures. If you care about the survival of our democracy, you should consider adding yours.

aph.gov.au/petition_list?
FAKE NEWS
WHITNER BLAMES TRUMP FOR ANTI-TRUMP 'KIDNAPPERS'
HOW THE LEFT LIES John Hinderaker on another leftist liar: "The FBI has arrested six men who allegedly plotted to kidnap Michigan Governor Gretchen Whitmer. At least three of the six have been shown to be BLM, Antifa, anti-Trump radicals... Governor Whitmer sent out a fundraising email...: 'We've seen the disastrous effects of Trump's hateful rhetoric.'"
ABC OF UTTER TRASH
Even I had no idea the ABC could be so trashy. Tony Thomas sat through its At Home Alone Together series: "Episode 1 ... degenerates to Becky Lucas in role saying, "Maybe... she wants to suck your dick or lick my … [In] Episode 2... the female...kneels to fellate him... Episode 4... the woman fellates a second standing man." Taxpayer-funded.