Remember when Sam Newman said his disrespect towards Adam Goodes wasnt racially driven but rather the way he spoke to a little girl? What a despicable, hypocritical fucking mess of a human
REAL NEWS
President Donald Trump asked Ukraine President Volodymyr Zelensky to "do us a favor, though" immediately after Zelensky told Trump he was grateful for the military aid the U.S. provided to his country, according to a White House summary of a July 25 phone call between the two leaders. That request — and Trump's implied threat that U.S. military aid to Ukraine was at stake if Zelensky did not comply — has become central to Democrats' push to impeach the president.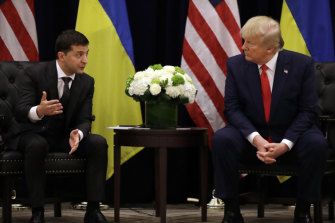 Senior Democrats say they feel increasingly emboldened to impeach Donald Trump after a summary of a phone call between him and the Ukrainian President showed him repeatedly prodding his counterpart to investigate his potential 2020 rival Joe Biden.
Democrats said the five-page summary released by the White House on Wednesday, local time, was far more incriminating than they had expected and showed a President engaged in a mafia boss-like "shakedown" of a foreign leader.
Some 211 Democrats now support impeachment or an impeachment inquiry, according to Politico. That is just seven votes short of the number required to make Trump just the third president in US history to be impeached.
A rare exception was Utah Senator Mitt Romney, who described the contents of the summary as "deeply troubling".
Democrats are hopeful that a whistleblower who filed a complaint about Trump's phone call will testify before Congress this week.
Documents have recently surfaced which cast some doubt over citizenship claims made by Josh Frydenberg's family.
Maybe Andrew Bolt could close his eyes and chanel the past and inform us (ODT)

Now for

FAKE NEWS & WAFFLE

PELL CASE: I WALKED THE ROUTE OF THE 'VICTIM'. IT COULDN'T HAVE HAPPENED
Last Sunday I walked the route a man says he took as a 13-year-old choirboy before he was raped by Cardinal George Pell. I timed it. And I am stunned. Did Victoria's most senior judges make a terrible mistake in their maths when they ruled against Pell last month? The times they gave don't add up. The rape couldn't have happened.