WHY DOES RUGBY LET QANTAS DROP FOLAU?
COLUMN: FOLAU FURORE

A sport picks a sponsor to help them field their best team. Yet Rugby Australia has picked Qantas, a sponsor which wants Israel

Folao

dropped for telling gays to repent. That's not a sponsor that's thinking of the fans.
ONE NATION DOWN, BUT LABOR KEEPS LEAD
Labor keeps its 52-48 lead after preferences despite One Nation's fall in the latest Newspoll: "Pauline Hanson's support has nose­dived, handing Scott Morrison the equal-best primary vote for the Coalition since just after the last election but also strengthening Labor's lead." Hanson will be my guest on The Bolt Report on Sky at 7pm.
So students who aren't slave owners must compensate people who aren't slaves, because of what long-dead people once did to long-dead people." Bolt
History has no relevance to Andrew Bolt. He doesn't want to be tainted with the brush of his Nazi ancestors in Aalsmeer. So it's why he claims he's more Indigenous than Stan Grant and Adam Goodes simply because he's older and history doesn't exist.
Bolt beats up the notion that recognition of the past and reparation means sending the innocent broke. That somehow reparation is new and hasn't been conducted elsewhere. But he's wrong and it's still going on. It's is being conducted as we speak by Germany, Japan, and many other countries. Recognition for wrongs done is sharing the blame the oldest families actually benefiting from the watering down of obligation of a nations humanitarian recognition and reparation. That complication according to Bolt outweighs any need for reparation.
"And, confusingly, they must compensate the American descendants of Africans taken as slaves, when the descendants of Africans whose ancestors weren't taken are on average much poorer." Bolt
Bolt's argument concentrates on America and Afro Americans not requiring reparation because Africans today are much poorer and any reparation will make all other Americans victims doesn't really gell as it doesn't make all other Americans that much poorer but the nation more united.
Bolt's running this argument in America because he want too much attention to the need for any reparation of any sort to Indigenous Australians.
He's tried the genetic argument "whose Indigenous anyway"? He's now trying on multiculturalism which he hates as defence against reparation. He's quite the swinger is Andrew Bolt. Australian immigrants are innocent of any past doings. Very rarely does Bolt argue a case for multiculturalism I'm Dutch why should I pay. Unfortunately the Inglorious history and Culture that Bolt generally praises so much today has resulted in oppression of Afro- Americans American Indians and in our case Indigenous Australians for over 200 years and that reperation isn't for acts gone by alone but acts that have continued and been supported by the accptance of current privileged. Rights not offered Institutionally to the Indigenous today. What is the reparation Bolt is against it's not a few beads blankets or $$ or the right of true assimilation on Bolt's terms either but respect for history and the recognition of the a legitimate diversity that is a part of us that Bolt has no time for.
Informed Comment
After six years of governance he and the other prime ministers (Abbott and Turnbull) have harvested little to talk about. In fact, demonstrably the LNP has shown that it inhabits a past where its MPs find it difficult to break out of in order to keep up with the rest of us.
My thought for the day
The exchange and intellectual debate of ideas needs to be re energised, and it is incumbent on everyone to become involved.
"Functional stupidity: A general reluctance to self-reflect, question our assumptions, and reason…
point may not be quite so obvious when your subject to the cacophony of the combined Liberal/Murdoch Media choir all singing in unison, though not in tune.
All in all, some of these people are going to be pleasantly surprised that the Labor government isn't going to be "the end of the world" as Terry McCrann wrote. Literally. That was what he suggested. I often wonder if journalists – and I use the word loosely – in the Murdoch stable have great senses of humour and have bets with themselves to see who can come up with the stupidest article and still get published. Or whether they really would make a less suitable Malcolm Roberts replacement in the Senate than Fraser Anning
He arrived as a superhero to save conservative candidates from GetUp! and its progressive campaigners, but the joke has been on the caped crusader.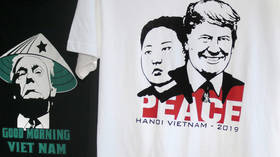 What Trump calls a high-quality friendship and we call BS (ODT)

The failed face-to-face talks with President Donald Trump raise a doubt whether the US is really committed to improving relations with North Korea, its leader Kim Jong-un said, while promising to beef up the nation's defence.
Labour Party leader Jeremy Corbyn would become prime minister and his party would take over the House of Commons, dealing a crushing blow to the May government should a snap election be held now.
We are all Julian Assange
The arrest of journalist and whistleblower Julian Assange by the Met Police in London marks a shameful day in the annals of British justice.
WASHINGTON—In the wake of the WikiLeaks founder's arrest by British authorities on behalf of the U.S. for charges stemming from the publication of classified military documents in 2010, members of the American media condemned Julian Assange Friday for the reckless exposure of how they could be spending their time. "We…