You know the way it goes: SIEV X sinks and hundreds of people drown, but we shouldn't get political about it because it would be wrong to blame John Howard, because making political capital out of personal tragedy is just offensive opportunism. Fast forward a few years and Labor are responsible for all the drownings at sea and there's no problem.
Or when people die installing the pink batts, it's brought up at every opportunity by the Liberals because they argue that the scheme should have had better planning and more oversight… This was, of course, at the same time as they were arguing for a reduction in red-tape because such things just slow down projects. We never hear of all the workplace deaths that this may have caused because death shouldn't be used for political reasons.
And so, we have the current fires raging in NSW and Queensland but, hey, don't mention climate change because we've always had droughts and flooding rains, and it's not the time. Just like in the United States when there's another shooting, it's not the time for a discussion on gun control. It's a time for thoughts and prayers.
If you don't believe me, just check out the Prime Minister's tweet.
Can't be long now before the RWFWs, the Murdochracy and the climate change deniers launch into their usual idiotic meme of blaming environmentalists for the bushfires.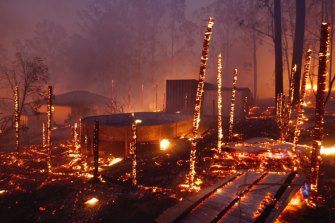 Three people are dead, more than 150 homes have been destroyed, and the fire service is warning that Tuesday's conditions will be "as bad, if not worse" than Friday because it will be across a much broader area including Sydney.
The intensity of this and other extreme weather events are documented by insurance companies acknowledging the increased costs which climate deniers aren't denying just prefer to tell us that there are less extreme events
Fake and Twisted News
THE CHOICE: SANITY, OR MICKEY MOUSE AND HIS 11,000 'SCIENTISTS'
Terry McCrann: "We now have a very simple choice. We can join the US... in walking away from the Fake Paris Climate Accord and begin the journey back to... sanity. Or we can join Professor Mickey Mouse and his 11,000 or so decidedly mixed assorted colleagues — curiously dubbed 'scientists' by the media — and run screaming into the streets."
And so, we have the current fires raging in NSW and Queensland but, hey, don't mention climate change because we've always had droughts and flooding rains, and it's not the time. Just like in the United States when there's another shooting, it's not the time for a discussion on gun control. It's a time for thoughts and prayers. (Rossleigh)