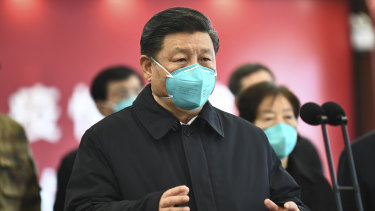 The historic motion was adopted at the World Health Assembly with no objections after China joined at the last minute as a co-sponsor.
But then there was the one-man political judgement and threat to the world (ODT)
On the eve of the virtual debate, US President Donald Trump threatened to withdraw World Health Organisation funding permanently after suspending US contributions in April over the WHO's handling of the coronavirus.
Mr Trump accused the World Health Organisation of an "alarming lack of independence" from China after alleging it ignored credible reports of the virus spreading in December 2019, made misleading claims about human-to-human transmission and repeatedly praised China for its transparency.


The government has tossed $130 billion at business, the corporate largesse is dripping all over the big end of town. Even highly profitable $8 billion property developers such as Mirvac are rolling in the free money, yet when it comes to Virgin Australia they are being all punctilious about "letting the market sort it out". Michael West reports on the future of Virgin.
Agreeing in principle to the findings of a review of its $2 billion Climate Solutions Fund, the Coalition says its two agencies should support key technologies.
Bit of a joke not committed to decarbonizing at all even what was once "clean coal" is now only "cleaner". They were previously sprung when it turned out the best technologies were only producing coal less than 10% cleaner. The LNP is far from committed to increasing jobs and real clean energy by transitioning away from fossil fuels. The support for these "technologies" is simply a delaying tactic they themselves know won't work and is a compromise in the face of massive divestment from fossil fuels. Strange their traditional user-pay demands aren't being applied here with their avoidance of a carbon tax a much clearer and simpler solution.
FAKE NEWS
ABC SNOWS US ON GLOBAL WARMING
When we had drought, the ABC blamed climate change: "Australia's drought crisis... How climate change is affecting what we grow and eat." Now that we have bumper snow, the ABC says it's just weather: "Snow season forecast to be a bumper after drought factors turn... El Niño is the biggest driver of drought for eastern Australia."