"Abhor-rent" was musical and comedic balm for the raw nerves in this particular household. Hope it is for you, too.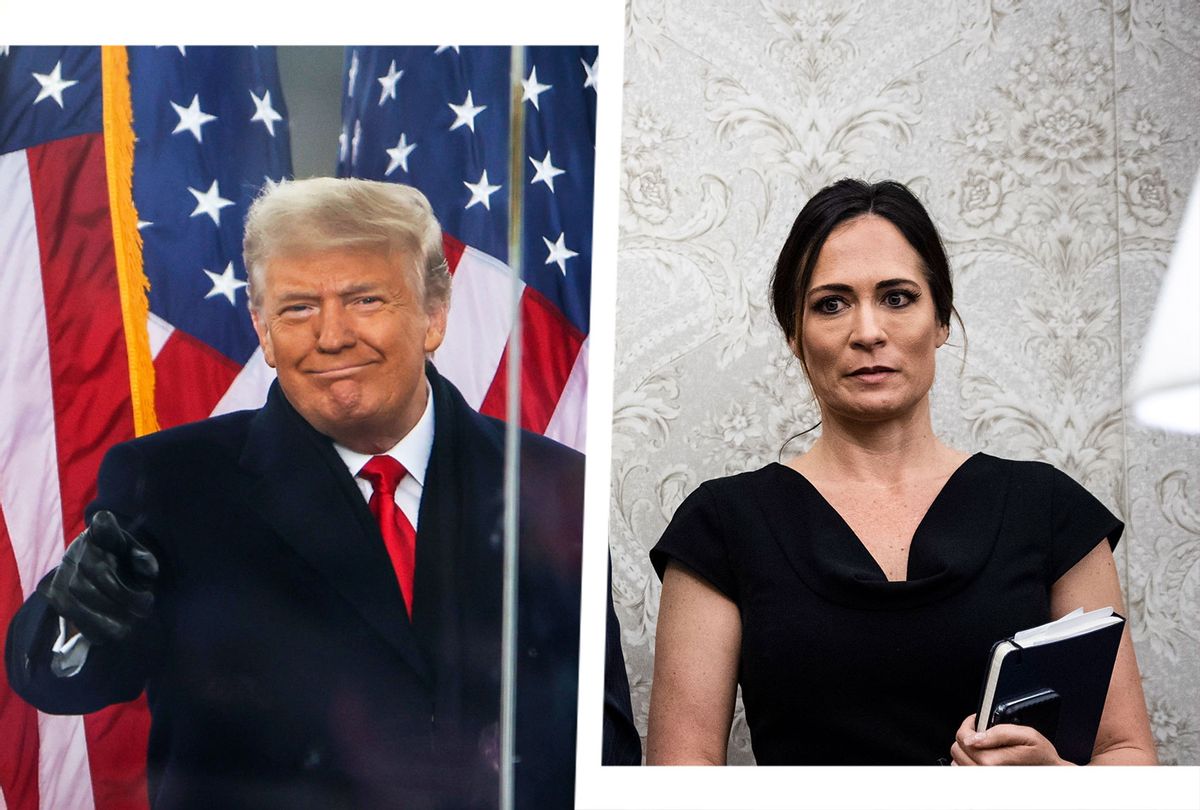 ​Former White House press secretary Stephanie Grisham said on Thursday that Donald Trump watched the Capitol riot unfold "gleefully" on January 6, proudly rewinding footage of the insurrection on his television. "All I know about that day was that he was in the dining room, gleefully watching on his TV as he often did, 'look at all of the people fighting for me,' hitting rewind, watching it again — that's what I know," Grisham told CNN's "New Day." Her remarks, made on the anniversary of the riot, align with past reports about Trump apparently glued to the TV screen as the riot played out. Last year, Washington Post reporter Carol Leonnig said in a CNN interview that the president was in the dining room of the Oval Office" during the insurrection, "watching it and almost giddy."
Democracy doesn't require us to agree. It requires us to agree only on preserving and protecting democracy. This meta-agreement is the essence of the common good.
Those now attacking American democracy are attacking the common good that binds us together. They are attacking America.
We must join together — progressives and conservatives, Democrats and Republicans, inhabitants of blue states and of red states, business leaders as well as leaders of nonprofits and of the public sector — to rescue American democracy from those who now seek to destroy it. There is no time to waste.
Your thoughts?
» article continues...

Morrison obediently follows the American way and cries "Let it Rip"

Meanwhile China



Eurasia Group, a US consultancy company, listed China's "zero-tolerance" strategy as useless and a global risk for 2022 in a recent report.Nothing could be more ridiculous. China's largely control of the pandemic is based on the contribution of millions of medical staff,as well as the sacrifice and efforts of all the Chinese people.So how could such a success be "useless" and "risky" in the words of the US company?
Some point to the Omicron variant of the virus as it is highly infectious, but that only makes the "zero-tolerance" strategy more necessary, because the country must prevent any "one" from becoming "thousands" or even more.Besides the COVID-19 vaccines have been approved for market use for one year, providing more defenses in the fight against the virus.
The US is not able to, nor is it willing to, adopt such a "zero-tolerance strategy.Now its daily tally of infections has soared to 1 million, an unbearable burden on its medical system.Eurasia Group as a US company should care more about its own nation's affairs, and stop producing laughing-stock reports.

MORRISON'S PLAN - THE UNANNOUNCED DETAILS

Instead he's gone and bought $3.5B worth of American tanks