Who is the real enemy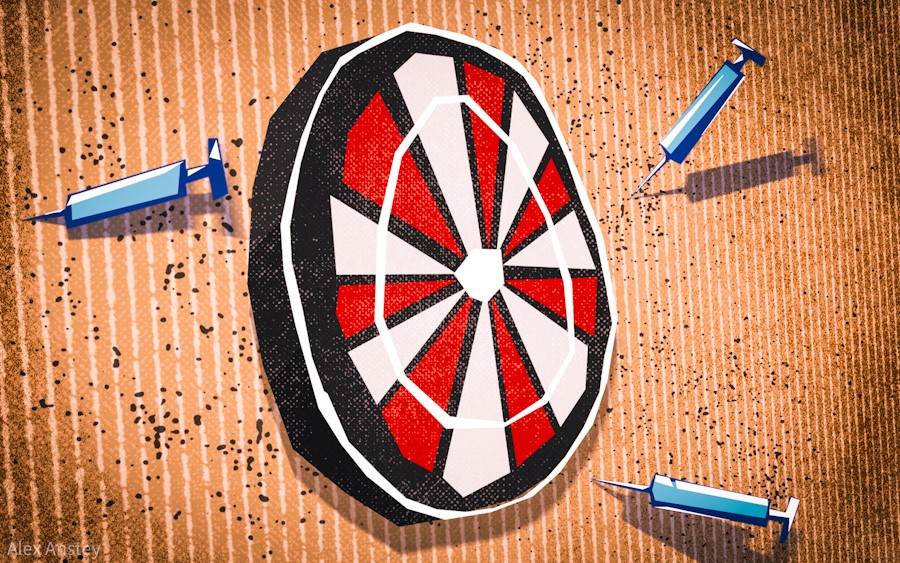 Scott Morrison and the Coalition keep changing their story on why the Covid vaccine rollout is a debacle. Are they betting the public will be unable to keep up with the rewriting of history? Elizabeth Minter reports on the Government's world-leading program of false premises.
To reach the government's biggest goal of giving every Australian at least one shot of the two-dose vaccine by October, somewhere in the region of 140,000 to 190,000 shots will have to be administered every day from now.
Far from being "front of the queue" for vaccines, as Prime Minister Scott Morrison said last year, Australia's rollout started later and is running slower than many comparable nations.
Mr Morrison protests that Australia's rollout is going better than Germany, Japan and South Korea were at the same stage; health department secretary Brendan Murphy says plans are "going well".
Under pressure from political opponents and medical experts over shifting vaccination figures, Mr Morrison stressed "circumstances change", claiming it was "unwise" to expect a level of certainty.
But with deadlines missed and current targets looking shaky, let's check back in on what the federal government had spruiked, and how those are going.

Like Trump Morrison believes in the salesman's approach to policy promise the world and look a winner and then blame the problems of failure on everyone elase and say the ALP couldn't have done it. Just keep talking scooter just keep talking.
Australia had originally agreed with AstraZeneca to import 500,000 doses but Europe suggested a figure of 250,000 might be more appropriate and have a better chance of getting around export curbs.
But even that application was rejected. The request was the only one knocked back out of 491 applications.
Australia's vaccine rollout has been propped up by doses manufactured in Britain rather than from factories in Europe as had been widely believed.
Morrison has headed back or has never left the days whe he was sacked by NZ and the Aus tourist boards for his lack of transparency. He's a whirlwind of bullshit. He never actually signed any contracts which put us at the back of the line when it came to delivery. Australia proposed to by vaccines relying on Qld to manufacture them. Basically we been behind from the get go and the rest has been spin.

One in three COVID-19 survivors in a study of more than 230,000 mostly American patients were diagnosed with a brain or psychiatric disorder within six months, suggesting the pandemic could lead to a wave of mental and neurological problems, scientists said.


No 1 Political Podcast trashed Sky's Celebrities like Andrew Bolt

Episode 32: Morrison plays vaccine blame game, big business wants to cut minimum wages, NZ opens a travel bubble and good news about birds and blue skie‪s‬
Van Badham and Ben Davison examine Morrison's attempt to blame the states, the EU, the media, anyone but himself for the failure to meet Covid vaccination targets and what is really going on with the failure to deliver vaccines to the millions of Australian's who should have been vaccinated by now.
The IMF says the economy will grow strongly, if we get our vaccines, and the Morrison government wants to take credit but it also says the economy is going badly so Australia can't afford an increase to the minimum wage. We look at the how when times are good big business argues against wage increases and when times are tough they argue against wage increases. Turns out they like calling people "essential workers" but don't like paying them like they are essential.
Australian's can visit New Zealand from April 19th but "flyer beware" the COVID conditions.
The good news is massive sandcastles for tiny birds and the air in LA is almost breathable again.
And of course Germanicus decides to try and get into the wall of the shed because it has an interesting smell.