The Bolt Report's bias and propaganda no debate seen here
From 2011 -2019 Andrew Bolt has appeared on his Bolt Report approx 739 times he's had Tony Abbott on 352 times. Nobody has had equal access to his platform than Tony Abbott. Michael Kroger 150 Rowan Dean 159 Scott Morrison 179 Bolt used to have a slogan No Foul No Favour. The ABC hasn't had a single left-wing person given as much favour

HOW DID JULIA BANKS EVER CONVINCE THE LIBERALS SHE WAS ONE, TOO?
The mystery grows. What did the Liberals ever see in Julia Banks that made them think she should be a Liberal MP?: "Bill Shorten spoke to Liberal ­defector Julia Banks about running for Flinders instead of Chisholm prior to her abandoning the seat in which she was elected."
"We are not taking this extraordinary step lightly ... this is not something we want to do," National Party officials said.
Partisan politics divides the LNP while non - Partisan Politics appreciates Merit (ODT)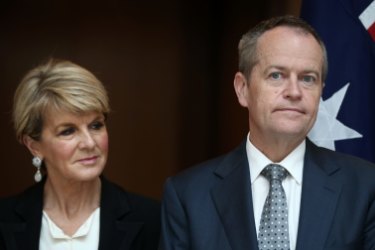 Labour leader Bill Shorten praised the Liberal former foreign minister at a campaign event in Perth.
Labour leads the way to Australia's Future. Abbott led the way to its division. (ODT)
This is Bolt's Normal in our wettest year what drought?
The Nationals are directing members to ignore how-to-vote cards and vote below-the-line in the Senate in a spectacular collapse of Coalition unity following Jim Molan's rogue campaign for his own re-election.
THE ARROGANCE OF THE GREENPEACE BRIDGE-DANGLERS
Greenpeace protesters act like tea-bags, dangling themselves off Sydney Harbour Bridge. I talked to Caroline Marcus on The Bolt Report about their arrogance in breaking the law. Watch.


A Facebook account linked to Clive Palmer's United Australia party paid to disseminate an ad for the Queensland LNP.
On Sunday, a UAP-linked Facebook account named Australia Watch Now spread an ad championing rival candidate, Brad Carswell, who is standing for the LNP in the Brisbane seat of Lilley.
The slickly produced video is a 35-second profile on Carswell, detailing his work in abattoirs, pubs, trucking and trimming trees, all with the LNP logo visible in the top right corner.
The Australia Watch Now page appears to be run by the UAP. It uses the party's distinctive yellow branding, shares UAP campaign material, and is authorised to an "S Sokolova, United Australia Party" in Brisbane.
The ad for Carswell has since been removed.
RACISM NOT MENTIONED ON THE BOLT REPORT
Federal Labor says "appalling" and "racist" flyers aimed at its Western Australian MP Anne Aly have been circulated in her electorate of Cowan.
The flyers are unauthorised, have no identifying marks, and so far, no group or political party has claimed them
Labour said it would refer the flyers to the Electoral Commission
The Coalition seeks to take Cowan from Labor, while four Liberal WA seats are also considered at risk