John Bolton pressed Bush to invade Iraq resulting in 9/11, ISIS and Global Terror. He went to Murdoch's Fox News and became Trump's advisor. He's back pressing for war in Iran and now has Trump's ear and putting the world at risk. What will bombing Iran do but set the world on fire (ODT)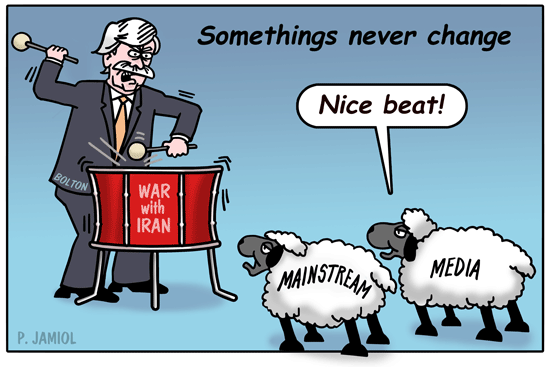 Are they Journalists or Sheep?: Bolton Orchestrates the Press for Iran War (Cartoon)

Bernie Sanders Delivers Online Address: 'We Must Not Go
IS LABOR PROMISING TO BAN HELL? OR CREATE IT FOR CHRISTIANS?

COLUMN

It seems insane in the week before an election that our leaders are arguing whether Hell exists and if gays will go there. What madness. Could Scott Morrison or Bill Shorten pass a law to abolish Hell, or ban God from sending gays to it? This is the politics of posturing that's crippling this country. And it's dangerous.

There is a theory that Rupert Murdoch always backs winners. That he prides himself about it. In election after election, when his preferred conservatives are heading for defeat, News Corp has dialled down the decibels of its pushy right-wing propaganda in the final few weeks, or months, before the vote. But this time, even though Bill Shorten is almost certain to lead Labor to victory on Saturday night, the Murdoch media have, for whatever reason, decided to double down — attacking the Labor Party and Bill Shorten with even more unconstrained hyperbole.

The great divide still encouraged by News Corp and Andrew Bolt are pro the Liberal ultra-Conservatives which splits not just the Liberals but the LNP coalition itself. Will you? Can you vote for them?

GREENS HATE SPEECH: ABUSING AND THREATENING CHRISTIANS IS FINE

The Greens claim to be against hate speech, but are what they condemn: "Damning footage has emerged of a Greens candidate hurling ­expletive-laden insults at Catholic students at the height of the same-sex marriage debate... 'Shut the f..k up," Mr Parissis yells... 'You know who's a joke? Your f..king beliefs... I wish I could kick your face in'."

The Bolt Report

(TV Series)

Himself - United Patriots Front / Himself

2017-2018

The truth Bolt wants to appear to be just an attack dog with lipstick on a nice guy, a devil's advocate, but that's all make-up even down to his false and self-constructed CVs. He is just a dog in the hands of his master Rupert and loving it.

PAYWALLS GALORE

FAKE NEWS: BRITAIN'S WEEK OF 'NO COAL' POWER

The warmist Guardian gloats: "Britain passes one week without coal power for first time since 1882" Terry McCrann clarifies: "The UK [is] still getting 93 per cent of its power from fossil fuels and nuclear.., Why? Because wind and solar just do not work."

PAYWALL

Scotland is a part of Britain it's running on 70% renewables most of the time now and is expected to be the first place in the EU running on 100% Mc Crann can say what he wants, but the data proves him wrong, not the Guardian.




McCRANN: THE BIG ELECTION ISSUE IS LABOR'S BIG LIE

Terry McCrann: "The central issue of this election campaign is — or should be — whether we really want as prime minister... someone whose central all-encompassing policy objective is quite simply a complete and utter lie... [Labor's] Lie is the promise to take 'Real Action on Climate Change'." It's a lie that will cost billions, if not trillions.

PAYWALL

Bolt's asking you to buy "free speech" we have laws about false advertising why isn't News Corp charged under the same laws Peter Foster was time and again. Propaganda is advertising, and it's being sold as news.

HARDER TO IGNORE: AFRICAN BRAWL, TWO GIRLS STABBED

This refugee community has a huge problem, as do the rest of us: "An organised fight between dozens of teen girls of African appearance has left a trail of blood... At least two girls were stabbed." Nearby: "Security at Fountain Gate was increased following recent incidents, including... two physical assaults involving groups of youths."

Drug addicts make bad neighbours. Who, other than politicians, is surprised?: "About 150 Richmond residents [met] on the safe injecting room, with a majority... voting in favour of a motion that the facility be moved." Another surprise - it's a honey pot: "I can't walk down the street without being asked if I'm chasing.'" Even staff have shot up.





TONY ABBOTT IN WAR FOR THE SEAT THAT MOST DECIDES OUR FUTURE

COLUMN

No wonder Tony Abbott feels hunted. He's under savage attack because he holds the most important seat in this election. So much will change if Abbott loses Warringah. Global warming will become our dominant religion, the power of militant activists will soar, Liberal conservatives will be cowed and the Liberals will have lost the election.

SHORTEN SPEAKS FROM WHITLAM'S PODIUM. HE'S WARNING YOU

Don't say Labor didn't warn you about what it's about to unleash: "Bill Shorten will deliver a major speech on Thursday, at the same venue Gough Whitlam delivered his historic 'It's Time' speech." Check Labor's promises on taxes, spending, global warming and immigration. Shorten isn't kidding. He'll make the Whitlam disaster look like a picnic.