In Australia, as in America, the conservatives' strategic partner in climate change denial has been the Murdoch media. Rupert Murdoch, feeling the heat of public opinion, claimed recently there were no climate deniers at News Corp! The Murdochs, senior and junior, must believe the Australian people are total fools. Murdoch's papers remain a command centre for the entire mission of climate policy obstruction. (K. Rudd)
'The Murdoch media has mutated to become a cancerous growth on our democracy. It no longer even pretends to be a media organisation, separating out news coverage from editorial option.' (The Guardian)
'It may be more accurate to say that the White House – just like the prime ministers' offices in Britain and Australia – is just one tool among many that this family uses to exert influence over world events.'(NYT)
"Republicans originally thought that Fox worked for us"
,
David Frum
, a former speechwriter for George W. Bush, was
quoted as saying
.
"And now we're discovering we work for Fox."
The Times
ran a
video
showing how and when Fox News merged with the Trump White House. A critical moment was when Fox anchor
Sean Hannity
appeared on stage at a Trump rally, each endorsing the other.
This was echoed in Australia last April when News Corp columnist
Piers Akerman
was photographed
campaigning
for Tony Abbott in a blue Abbott T-shirt.
Practical solutions ... Sleeping Giants
As Dr Kim Sawyer showed on Saturday, we have options. One response is via strategic boycotts. This requires withdrawing custom from advertisers who pay for the publications and emailing them to explain why. If a bank, for example, which advertises in The Australian, finds customers are shifting their accounts to banks which do not pay News Corp, it will naturally place its ads elsewhere.
This happened recently when customers outraged at Sydney broadcaster Alan Jones withdrew their support for advertisers on his radio network. Advertising revenue reportedly dropped 50 per cent.
Demise is possible. After the criminal phone-hacking scandal was exposed in Britain, the outrage against Murdoch's News of the World forced its closure in 2011.
The media landscape without News Corp will be rich and diverse. But it will be less destructive of values and people.
Let this be a global turning point for democracy and decency.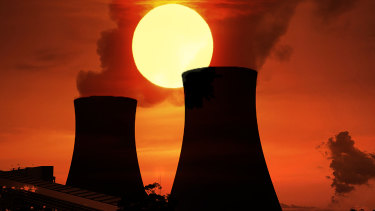 Labor has accused Prime Minister Scott Morrison of using a "fake number" to mislead Australians about cuts to greenhouse gas emissions amid a growing debate within government ranks over stronger action on climate change.
When Politicians defy what the experts are saying they are "politicizing" the facts. Yet it Morrison whose cry is "let's not politicize the facts". Is it any wonder he's fallen 9 points in even News Corp's pollsters eyes.(ODT)
Australia could have avoided the scale of the devastating bushfires, Professor Ross Garnaut says as he warns the situation will continue to worsen if there isn't global action on climate change, something he says doesn't have to come at the expense of the economy.