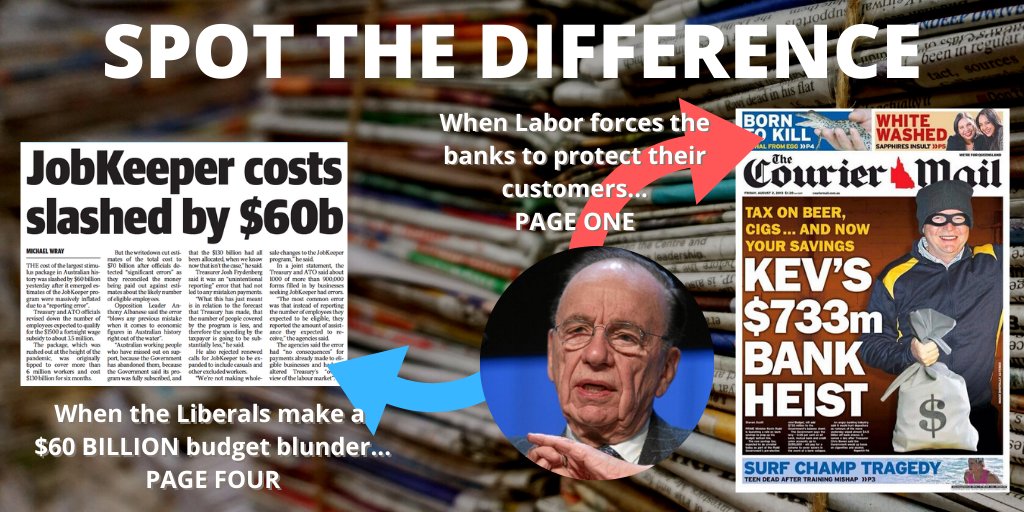 Let's get this straight: our ever-so-responsible Morrison Govt admits a $60 BILLION 'reporting error' in JobKeeper! The same Morrison who crowed only the Libs could be trusted to manage Australia's finances? Of course the Murdoch protection racket lets them get away with it…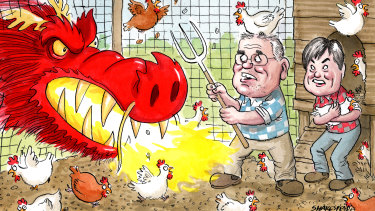 Columnist for The Age and Sydney Morning Herald
As China becomes more belligerent in its strategic and diplomatic behaviour – unquestionably, this is happening – it will be in our interests to reduce our reliance on it and to develop new markets, just as we should also deepen our regional partnerships.
But that should be done quietly, without harming us in the here and now. The debate over how we engage with China is one we must have, but it can easily be derailed if our leaders speak and act impetuously.
Because of the Prime Minister's overt global politicking, which China was bound to see as a Trump-based initiative, we've got a barley export industry that's set to fall over and a beef export industry that's also in trouble, possibly with other sectors set to follow.
The quality of our journalism really does stand out doesn't it here is Carney telling us to cut our tie with China but do it quietly be Chinese about it as if China was dumb deaf and blind
and hadn't noticed that we were actin as if tied to America's apron strings
.
America's Pompeo is making hell of a noise threatening us because Dan Andrews is being diplomatic. Somehow Carney believes they haven't noticed.
It shows what The Age has become since being taken over by Ch9 a twisted version of Murdoch media rather than an alternative to chasing after their advertisers.
Australian television shows like The Voice, Border Security and Neighbours will be broadcast in the Pacific under a $17.1 million soft-power push against Chinese media influence in the region, but critics say local voices should be the priority.
Truly sick aren't we Tony Abbott having got rid of Radio Australia and shredding the ABC giving China the opportunity to provide what Australia did for 75years has the LNP deciding we need to come back and come back with an old patronising South African/LNP version of South Pacific.
Australian television shows like The Voice, Border Security, Neighbours and MasterChef will be broadcast in the Pacific under a $17.1 million Australian Government project at a time when China's diplomatic and media presence is on the rise in the region.
Fake News
SACK THEM FOR THIS $60BN MISTAKE
Terry McCrann: "The head of Treasury, Steven Kennedy, and ATO Commissioner Chris Jordan must both be sacked... The statement put out by the duo jointly on Friday to 'explain' why the JobKeeper program was now 'only' going to cost $70 billion instead of the estimated $130 billion was quite simply an attempted butt-covering disgrace."
What a load of crap by McCrann and Bolt trying to stick their heads above the parapet to be noticed. These two know that all forms these days are computer-generated template applications. The issue that a program didn't distinguish 1000 incorrect filled boxes out of 9000 is simply bad programming. Readiness to spend $130 bill was declared great policy.
The cry "sack them" is scapegoating and a walk back on policy and not a technical error. They didn't cry "sack them" when business heads intentionally spent years robbing workers of their wages and Super. Shortchanging them of their benefits and even more.
Their aim is to sensationalise themselves and not even consider why and what the problem now is. Kennedy and Jordan aren't the excuses for Frydenberg's current error walking back on a promise and policy considered necessary. Scapegoating is easy. However, given Frydenberg and the LNP saw $130 bill as a reasonable and necessary amount to spend to save Australian workers at this time why now is $70 bill being regarded as going over the cliff? The "backdown" in policy is the issue that stands out and not a computer error.
Bolt's made costly mistakes at News Corp to the tune of hundred's of thousands of dollars and he's still with us we didn't hear him calling for the sacking of News Corp's legal advisors or that his mistakes were theirs.
JOBS NOW. THINK OUTSIDE THE SQUARE. CHECK OUT PERROTET

Hmm. One man seems to have a more practical plan to get people working. Morrison's: "An overhaul of vocational education focused on tradies and skilled workers." NSW Treasurer Dominic Perrotet's: "Businesses would be given more freedom to spill into... footpaths, into parks and converting streets into marketplaces." There's good science to this.
HOW TO SMEAR TRUMP WITH ONE LYING PICTURE
Who knew? Democrat Julian Castro employed a certifiable liar to run his communications during his tilt for president. That liar is Sawyer Hacket, whose latest hate-Trump tweet is destroyed with a single photograph.
DOMINIC CUMMINGS VS THE VIRUS-MADDENED MOB. NO CONTEST
Brendan O'Neill asks who is worse in the Dominic Cummings furore: "The media and the Twitterati have been raging against two parents who were ill, or at risk of falling ill, and who did what they thought was best for their kid in this situation: drove from London to Durham so that family members could assist with childcare if necessary." Read on.