Queensland LNP Senator Gerard Rennick is among 10 Coalition MPs wanting a freeze on the compulsory superannuation contribution that employers pay into workers' super. This Senator has access to a federal parliamentary super scheme that contributes almost 6% more than the average scheme but he thinks workers should cop another freeze as part of his government's war on workers' super. -->

https://bit.ly/

theyretireyouexpire Australian Unions
Donald Trump's former security adviser warns the United States' global relationships may not recover from the "damage" caused if President Donald Trump wins a second term.
When leaders are individual personalities serving themselves a nation fast becomes a failed state
.
America is fast becoming a Latin American style plutocracy (ODT)
The US records a one-day total of 34,700 new COVID-19 cases, the highest in two months, while scores of migrants arriving in Somalia are telling United Nations workers every day that they are unaware of COVID‑19.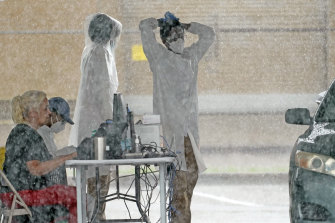 The number of new daily cases around the US climbed to a near-record high, as many as 20 million Americans have contracted the coronavirus.