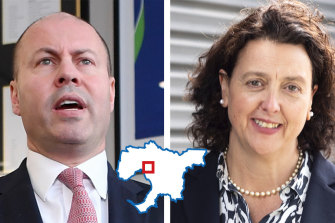 One might well ask " What is the sound of Surrender" "KEEP JOSH"
Staying with the federal treasurer for a moment, and Josh Frydenberg has distanced himself from the prime minister's handling of the controversy surrounding hand-picked Liberal candidate for Warringah, Katherine Deves.
Source: Election 2022 LIVE updates: Anthony Albanese, Scott Morrison clash in final leaders' debate; Australia minimum wage debate continues; Port of Darwin China sale worth $20m; Josh Frydenberg distances himself from Katherine Deves
He might be a Salesman but he can't sell and has a history of being sacked

Undecided voters in marginal seats have named Anthony Albanese the clear winner of the third and final leaders' debate which was a more sedate affair than the previous 'shouty' match.
The Final Showdown on Channel 7 on Wednesday night included a 'pub test' of 160 voters who scored Mr Albanese 50 per cent and Mr Morrison 34 per cent while 16 per cent remained undecided.
Meanwhile A YouGov poll of 19,000 voters commissioned by The Australian shows the Coalition heading for defeat, with Labor winning 80 seats and the Coalition reduced to 63. Seven seats would go to independents and one to the Greens.
When asked "Do you think workers should be paid a minimum wage? " Morrison said "That depends". Morrison's own appointed Head of Treasury Dr Steven Kennedy has said. If there's an increase of 1.5% in productivity and inflation is running at 2.5% a 4% increase in the minimum wage would not be unreasonable or inflationary. Which would suggest when inflation is 5.1% a 5% increase wouldn't be excessive because productivity over the past 4 decades has erupted. In real terms the minimum wage has slid from 59% of average wage to 53% and Morrison wants it even lower.
Productivity has skyrocketed while inflation has been low and wage growth "flat". In fact under the LNP it has only been 0.7%. When you consider we've seen a rise in productivity of over 10%. It becomes clear distribution has favoured the wealthy. They have been getting the greater share by far of a growing pie, and the Morrison government promises to keep it that way, calling that "responsible".

Morrison and Frydenberg said record low unemployment will "force wages up" it hasn't. What we have seen instead is "record wage theft" from both Australian and imported workers alike as has been the case at QANTAS and Astel companies Morrisonhas given massive grants to. $124M dollars in the case of Astel who continue to import cheap labor and force Australian wages down. What's more Morrison acts with full knowledge of their theft.
A 5.1% growth in "minimum wage" doesn't translate into a 5.1% wage rise across the board but that's what Morrison wants voters to believe. He promised low unemployment and wages force wages up. They haven't. Now he wants voters on welfare and those on the lowest of wages to take "a pay cut. Having already losing $2000 in the past 12 months he's now demanding more in the next 12. He is a disgrace.

Nevertheless the 3rd level of tax cut, gift of $9000 dollars will go ahead for those earning over $180k. CEO's have already seen an average rise of 20% companies 12-15% and Morrison is ensuring they will get even more. His billions in gifts and promises will remain in place even though that money has been of no benefit to productivity. It simply went into non productive investment.
The expansion of cheap imported labor will continue to force wages down while Morrison says "I have no control on wages", what bullshit! If he has no control then why does he maintain Anthony Albanese does? We know Morrison has been an impotent limp dick and bragart but Australia needs responsible leadership. The ALP has alawys come in tidied things up to see the LNP take over when things are on the up and up to fuck things up again. Remember the the GFC.

Tudge on Skye "I know nothing" "Scott on Skye knows nothing" " That's not the Government's area of knowledge"

Yes Morrison and his Minister for Education- doing a great job "Teaching us a lot"Scott Morrison confirms $500,000 payment was not for Alan Tudge's abuse which means it had to be for the sexual assault complaint against Josh Frydenberg



Just how many AEC rules have been broken here? When taxpayer money is used to promote the LNP? Frydenberg and Fletcher use NGOs to promote themselves all with the knowlegde the AEC has no teeth and they will get away with it.
The Coalition government has announced $35m of taxpayer funding through Coalition campaign headquarters with Coalition election branding.
Murdoch's "Australian" attacks Albo for 'diving deeper into debt'! Memo to Murdoch: when we left office in 2013, debt stood at $184B. Before the pandemic, Morrison doubled this, and under his reckless spending we're hurtling towards $1 trillion of debt. Murdoch is full of shit.
Australians for a Murdoch Royal Commission
A little less political coverage in the big Murdoch papers today and a high score for 'neutral'. Did the wrong bloke win the Leaders Debate or something?
37 articles favouring the Liberal party, many of them as attacks on the so-called "teal independents". 18 for Labor.
The covering up of corruption and scandals by the mainstream media is highlighting the importance of independent journalism more than ever, writes Paul Begley.
Acting education minister

Stuart Robert MP

just said he won't participate in an education debate and that I should've asked earlier. I did.
Like all good LNP government members Stuart doesn't let the truth get in his way.