It appears there have been changes in Andrew Bolt's life recently. 1) He's left or been dropped from 2GB. 2) For the past week or more, his Blog has been reduced to PAYWALLS and just Banners to sell subscriptions to News Corps other mastheads. 3) His weekly Podcast has it seems been dropped from being weekly. Bolt has suddenly become the shrinking man. Let's hope it's for the right reasons because it indeed isn't because Murdoch Media has got a conscience or Andrew Bolt has seen red over the pro-budget propaganda blitz. (ODT)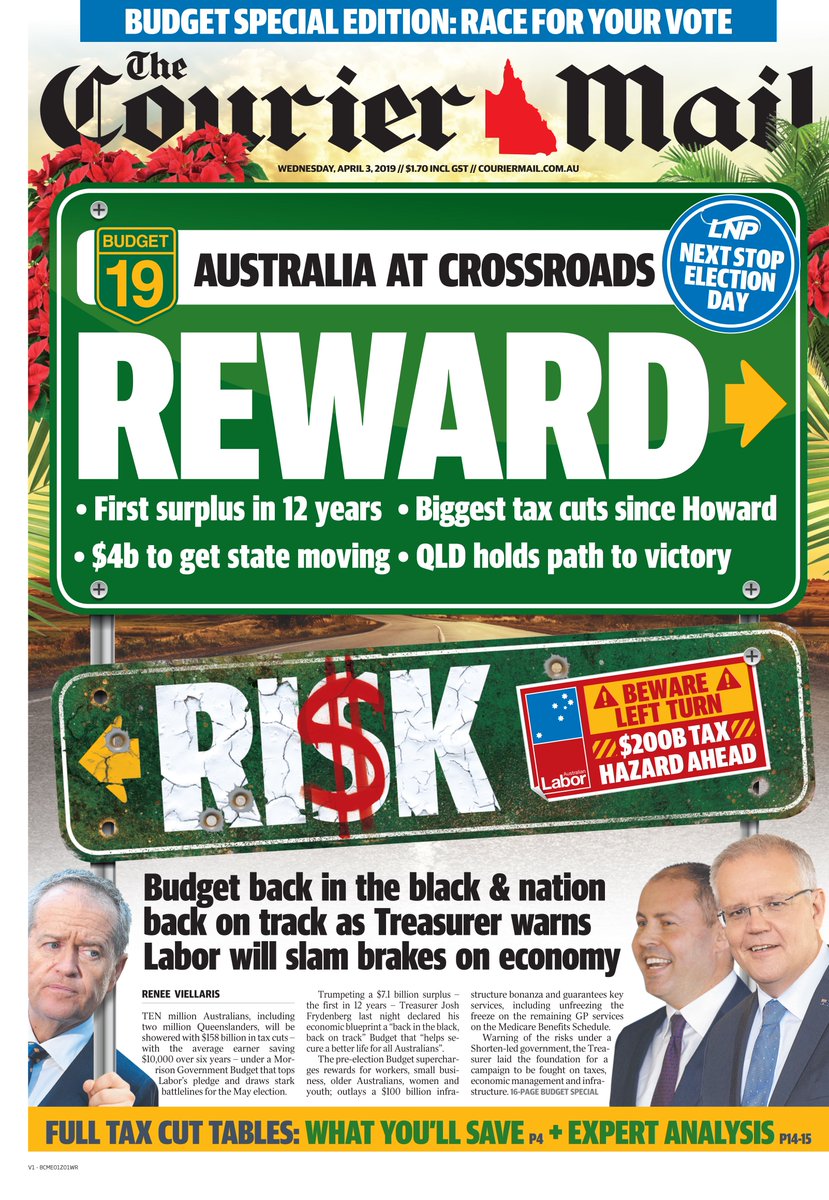 Propaganda sold to us as News!! When do donations to the LNP go UNDECLARED when News Corp sells Fake News. We have a foreign influence in Australian politics that's a Cancer on Australia's Democracy. This is a Cancer the ALP needs to fight. (ODT)
Just when you thought News Corp's political coverage couldn't be any more partisan, the Courier Mail published a federal budget front page that was little more than blatant propaganda for Scott Morrison's government.
The Brisbane tabloid's front page, headlined "Australia at Crossroads", featured big green road signs that pointed right to financial rewards and tax cuts under the Coalition and left to risk and debt under Labor. "Beware left turn: $200b tax hazard ahead," said the bullet-ridden sign.
One way of measuring what scientists think of each other's work is to look at how many times scientists cite the studies of other people.
Ridd does not have a Google Scholar profile (the easiest place to check citations), but his ResearchGate page shows his work has been cited 3,113 times. For comparison, according to ResearchGate, Terry Hughes has been cited 41,600 times. Professor Ove Hoegh-Guldberg of the University of Queensland – a pioneer of coral bleaching research – has also been cited 41,600 times.
I mention Hoegh-Guldberg, because during one of the Rozner interviews, Andrew Bolt claimed the Queensland scientist had been forced to back-pedal on his claims over the years.
Hoegh-Guldberg told me:
"My 1999 paper predicted back-to-back bleaching and loss of corals by mid-century. But that's happening right now. The impacts we predicted are actually unfolding much quicker than we thought."
So, is Ridd a world-renowned expert on the Reef? "No," said Hoegh-Guldberg. "If he was, it would be reflected in his citations. He's not heavily cited."
Unequal?
Alan Jones, a Sydney shock jock who thinks climate science is "witchcraft", has also tried to pain Ridd as the plucky underdog going up against a big institution.
"Here is a bloke who is challenging the groupthink on climate change, but it's unequal wherever you turn."
Unequal? Unequal, except for the fact that it was Ridd who chose to take his employer to court, not the other way around.
Unequal, except for the support of an entire news channel and a quarter-of-a-million dollars to hire a top legal team.
And unequal, except for the support of a think tank that has accepted at least AU$4.5 million in funding since 2016 from Australia's richest person, mining magnate Gina Rinehart.
Unequal?


Dastyari go the boot what makes Hanson and Abbott untouchable? (ODT)
The club is 70km west of Mr Abbott's northern-Sydney electorate of Warringah, and its directors include Jack Lam, a gambling tycoon and fugitive from a bribery prosecution in the Philippines, and Tommy Jiang, who since 2011 has partnered in a joint venture media company with a Chinese government radio service subsidiary.
Both men are involved in organisations linked to the Communist Party's overseas influence operations, including the Chinese Peoples' Political Consultative Conference, a political organisation hand picked by the Communist party.
Tony Abbott attended functions hosted by Communist Party-linked moguls.