Australia won't be part of a US evacuation plan to protect Afghan staff who fear of persecution from the resurgent Taliban, despite calls from former senior diplomats and military figures.
When Spinners are seen for what they are. They aren't winners note who is and the Dan difference

Not only had Mr Morrison's net approval slid to its lowest level since the 2019-20 bushfire crisis, popular support for the Coalition (down two points) and Labor (up two points) was deadlocked at 39 per cent. The four-point turnaround equates to Labor taking a 53-47 lead in a two-party-preferred vote and a significant defeat for the Morrison government if a federal election was held.
Any wonder Costello sacked Hewson
Support for Scott Morrison and the government have slumped in Newspoll, in a major backlash against the botched vaccine rollout. Labor has surged to a two-party lead of 53-47 per cent, compared with 51-49 per cent in the previous poll in late June.
WHY IS A FIRST WORLD NATION OF 25M RUNNING LAST?
NEOLIBRALISM, MONEY & WORLD VIEW !!


Morrison's Assistants, The IPA, Murdoch, Costello, Stokes and their media interests. They are the propaganda arm and PR crutch of the PM who has leadership abilities and is sinking faster than lead in the polls. Morrison is incapable of doing it alone or like Albo who has one hand tied behind his back.
One of Scott Morrison's closest political advisors is Nine Entertainment Chairman and former federal Treasurer Peter Costello and one of Scott Morrison's biggest critics is former federal Liberal Party leader John Hewson who was sacked this week as a columnist by the Nine Entertainment owned papers The Sydney Morning Herald and The Age. John Hewson's criticism of Scott Morrison is a lot more damaging to Morrison's reputation and credibility with voters than most critics because Hewson is a former Liberal Party leader. And with Hewson having a national platform such as The SMH and The Age papers and their websites would have made Hewson one of the top targets for Morrison's hit squad who work behind the scenes daily trying to manipulate the media.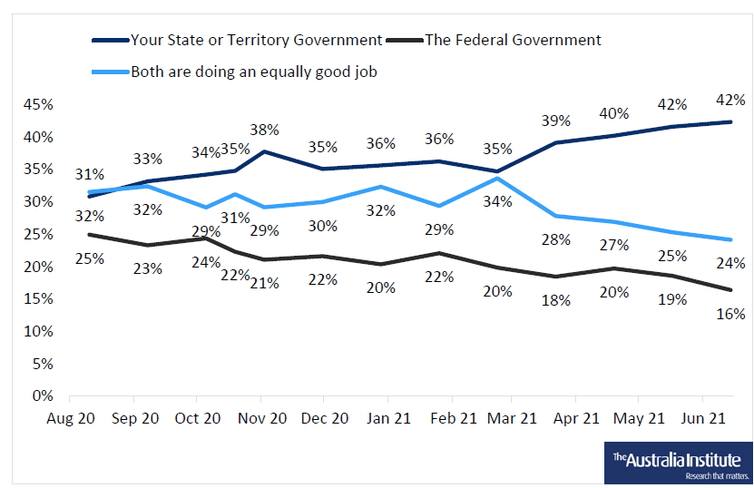 Which level of Gov is doing the best?
The Australia Institute has been regularly polling the question "which level of government do you think is doing a better job of handling the COVID-19 crisis?". Respondents were asked to choose between their state or territory, the federal government, both equally, or say they didn't know.
Source: With Sydney and Melbourne in COVID lockdown, Berejiklian, Andrews and Morrison have something in common – ABC News

So Labor, it's up to you. Barnaby has told us that they don't have a plan and this is a problem for Scott Morrison – who we're told wants to achieve net zero emissions at the same time as vaccinating the population. Both are to happen, "as soon as possible" which is a pretty ambitious plan for most of us, but it seems pretty pedestrian for a man like him who believes in miracles. Couldn't we have at least one of them happening before it's possible instead of waiting for the possible? Otherwise, where's the miracle? sigh< Maybe I should just congratulate Barnaby for achieving net zero in politics and conclude that maybe the planet knows what its doing and when the cockroaches take over, it might be an improvement.